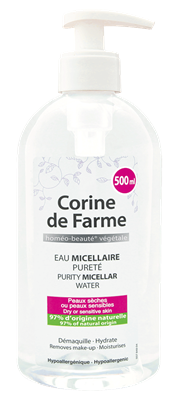 Contains about 1% of vegetal glycerin : one of the most effective moisturizing agent in cosmetics.
Paraben free, phenoxyethanol free, no alcohol, no coloring agents.
Hypoallergenic (specially formulated to minimize the risks of allergic reactions).
A fruity/floral fragrance, phthalate free.
A micellar make-up remover lotion with expert formula to effectively remove any fatty substances, dusts and impurities on the surface of the skin.
A formula called "Micellar" associating surfactants.
Micelles are very soft and skin-friendly. The skin does not need to be rinsed, they leave skin fresh, soft and moisturized with only one gesture.
Formulated with a low-dose of surfactant for an optimal ocular tolerance.