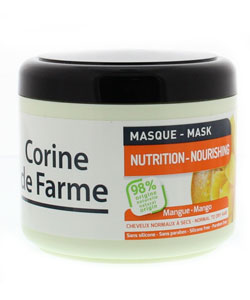 Corine de Farme's Nourishing Mask enriched with Coconut Milk and Mango provides nourishment to your hair, your hair regains elasticity & bounce, feels soft to the touch.
A formula of 95% Natural Origin
A formula without parabens, silicone, phenoxyethanol, dermatologically tested (formulated to minimize the risks of allergies).
MILD pH to respect the nature of the hair.
Concentrated formula enriched with extract of mango(rich in vitamins C, free radical B1, B2 and pro vitamin A) and coconut milk(rich in amino acids, trace elements and minerals, it is known for it's moisturizing properties).