Brand Story
The origins of Cuticura stretches back to over five generations in the early 1800's when it was created in The United Kingdom as a range of Medicated Personal Care Products.
The United Kingdom at that time was a vast empire stretching over almost all the continents in the world and it was through this network that the Cuticura brand name became well known throughout the world including Malaysia.

In each of the colonies, British products were considered the best and in Cuticura's case, it was of high quality and deserved its reputable image.
Early products from the Cuticura range included the talcum powder and a range of, what is believed to be, the very first range of medicated soaps to be commercially sold in the United States of America.
An advertisement placed in 1895 by Potter Drug & Chemical Company of Boston touted the products ability to "address a wide variety of skin irritations as well as to preserve, purify and beautify the skin".
These are principles that the Cuticura brand still upholds till today.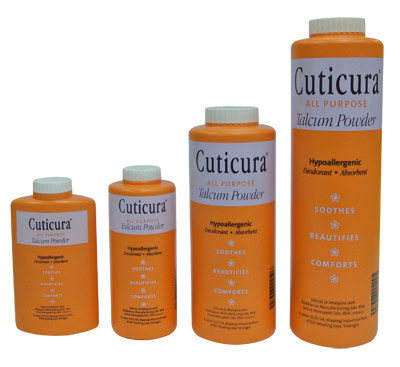 Product features
Deodorant – with the Cuticura very own signature fragrance
Absorbent – Contains corn starch for better moisture absorption
Hypoallergenic – suitable for baby and sensitive skin