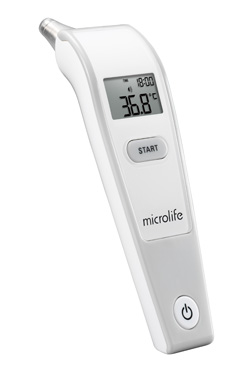 Microlife IR150 is a clinically tested infrared ear thermometer designed for measuring body and object temperature. Its intuitive design enables a simple and accurate measurement of the ear temperature in only 1 second.
The LED lighted probe helps you to find the ear position in the dark, thus making it possible to measure the temperature without waking up your sleeping child.
Measured values are shown on the illuminated display with bold and easy to read figures. The memory function helps you to keep track of the temperature development, storing up to 30 different values with date and time record.